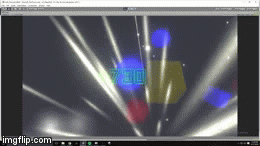 Shift Shape
A downloadable game for Windows
Shift Shape
A complex struggle of colors, sounds, and shapes. See how long you can carry the molecule from waypoint to waypoint. Thank you for trying Shift Shape. This game was created for VRJam16 in 48 hours by Kevin Harper and Brendan Coyle.

How to play:
Green Good, Red Bad. Many shapes will shift, but only one shall survive.

System Requirements:
This game works on the HTC Vive headset only. Built with a GTX 980, iCore7 and 32Gig ram Machine. Please do not run this on a laptop. 980+ please.
Video
Install instructions
Download on Windows, unzip, run exe